Talking of floods, they appear to be a worldwide scourge this year.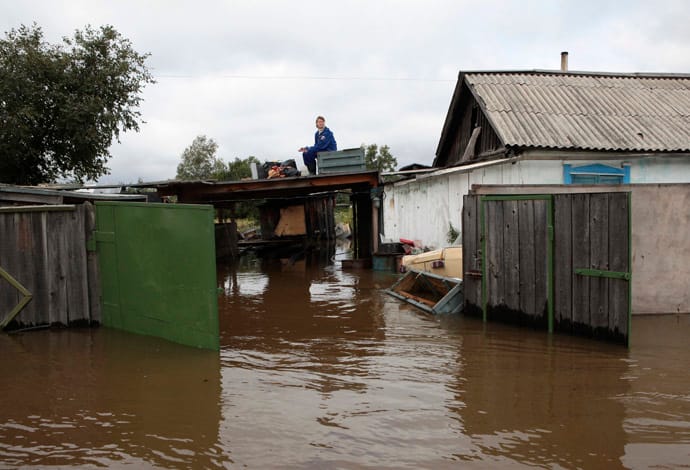 A woman sits on the roof of her flooded dwelling outside Komosomolsk-on-Amur in Russia's far eastern Khabarovsk region, September 7, 2013. (Reuters/Vladimir Barsukov)
The Far East of Russia also suffered intensive record flooding in August and September of this year.
Here is a map showing where most of the flooding took place (red area) and an arrow pointing to the town mentioned in the photo and the report above.
This NASA satellite image, taken on August 17, 2012, shows where the waters of the Amur River should be in late summer:
Here's where things stood on September 8, 2013: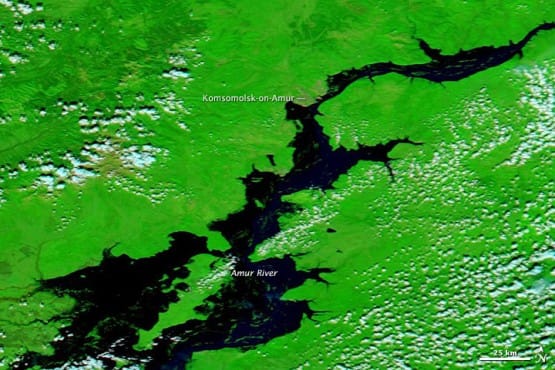 The level of the Amur River in the flood area reaches a historic high, says the caption to this clip.
A nationwide campaign was launched this past Sunday (October 6) to raise money to help rebuild Russia's flood-hit Far East.
In The Great Waves of Change, Marshall Vian Summers explains the steps you can take to navigate our increasingly turbulent and uncertain times. In the face of such uncertainty, he presents a revolutionary new way of knowing—a unique process that can be applied by people everywhere. By understanding the Great Waves and by connecting to a deeper authority within, you can find the strength, courage and inner certainty to adapt and to become a contributor, not a victim, to a rapidly changing world.
I like to think that it is this deeper authority within us that motivates people to rally together and extend a helping hand at times of disaster. But must it always take some calamity of unprecedented proportions to prompt people to take action? I would like to think that worldwide scourges like the recent floods will awaken people to the fact that the Great Waves of Change, as detailed in Marshall Vian Summers' book, are not something that might possibly happen at some hypothetical point in the future, but are already happening today. I would like to think that this will stir people into action now, instead of waiting until the water comes tumbling through their own back door.
* * *
Welcome to Mystery of Ascension! We are students and advocates of the the New Message from God. We are members of a worldwide community. We seek to assist the world in successfully navigating difficult times ahead. We seek to assist the world in successfully emerging into a greater community of intelligent life. You will also find some poetry. Find out more about us here. Contact us here.