When I was eight years old, I spent a year in Birmingham, England. My family traveled to many places in England, Wales and Scotland. One of the places we visited was Coventry. I remember being in roughly the spot from which this photo was taken.
Coventry Cathedral was built during the late 14th and early 15th centuries. It was destroyed during World War II in the Coventry blitz of 1940. Provost Richard Howard had the words "Father Forgive" inscribed on the wall behind the altar of the ruined building.
A voice louder than bombs
When architect Basil Spence (now Sir Basil Spence) designed the new cathedral, he insisted on keeping the ruins of the old cathedral as a garden of remembrance. I consider this an inspired decision. Hitler and the bombs are gone, the words "Father Forgive" are still here.
The new cathedral contains a large tapestry, created by Graham Sutherland, called "Christ in Glory."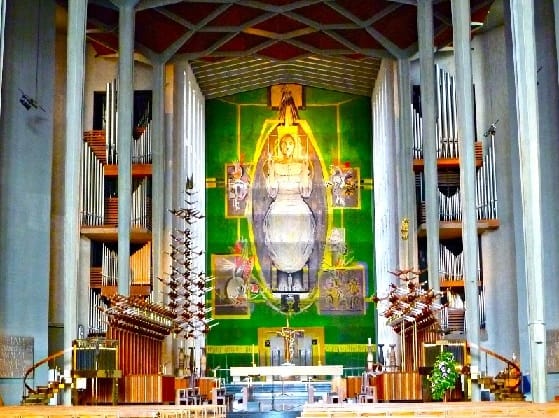 If you look carefully, there is a human figure standing between the feet of Christ in the tapestry.
I am sharing this with you because the image of this tapestry appeared in my mind's eye while I was doing the practice of Step 75, "Today I will listen to my Self" of Steps to Knowledge. My original plan was to write a post on Step 76 today. But I felt an inclination to share this instead. Coventry is a place where the words "Father Forgive" ring out in a voice louder than bombs.
* * *
Welcome to Mystery of Ascension! We are students and advocates of the the New Message from God. We are members of a worldwide community. We seek to assist the world in successfully navigating difficult times ahead. We seek to assist the world in successfully emerging into a greater community of intelligent life. You will also find some poetry. Find out more about us here. Contact us here.